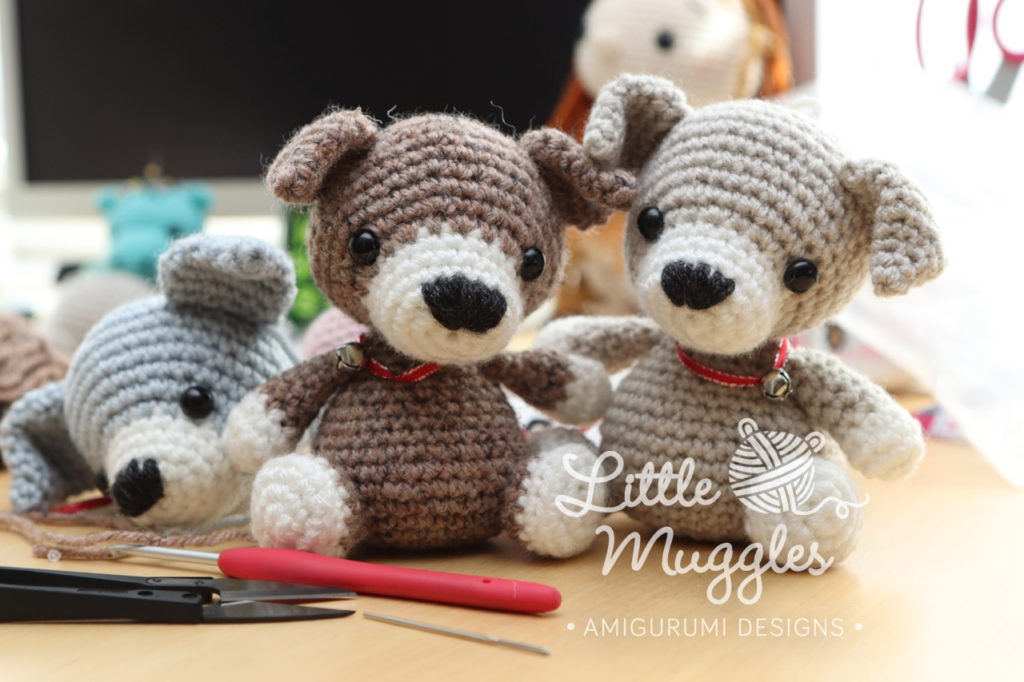 Hi everyone!  I'm finally finished with my side project, my Puppy Beanbag Buddies!  The pattern is very similar to my baby Owl and Violet Kitty patterns as they all have nice round, heavy bodies and make fabulous desktop accessories!  The body contains polyester pellets to give it that extra heft and stability! They're perfect for weighing down papers; I've even been known to use these little guys as impromptu pin cushions! 🙂
I think the world of amigurumi is more exciting than ever these days!  It's amazing to see how quickly the amigurumi community has expanded since way back when I first discovered this hobby.   It's truly inspiring to see all of the imaginative and creative techniques being used in crochet dolls these days!  I'm sure you agree!
To thank you all for continuing to follow me and for your kind words of encouragement, I've decided to share this as a FREE PATTERN! Please click HERE!
These little buddies make for a very simple and relatively quick project, so you have plenty of time to make a few to slip into those stockings that are hanging on the mantel!  Basic stitches are used so this would be a great project for anyone new to crocheting as well!
This pattern is also perfect for anyone who is interested in getting a head start on making something fun to celebrate the upcoming Lunar New Year… did you know that it's going to be the Year of the Dog in 2018? ?  I have a feeling there will be a ton of featured doggy designs within the amigurumi community in the next couple of months! 🙂

I wish you all a fantastic, magical holiday season! Cheers!