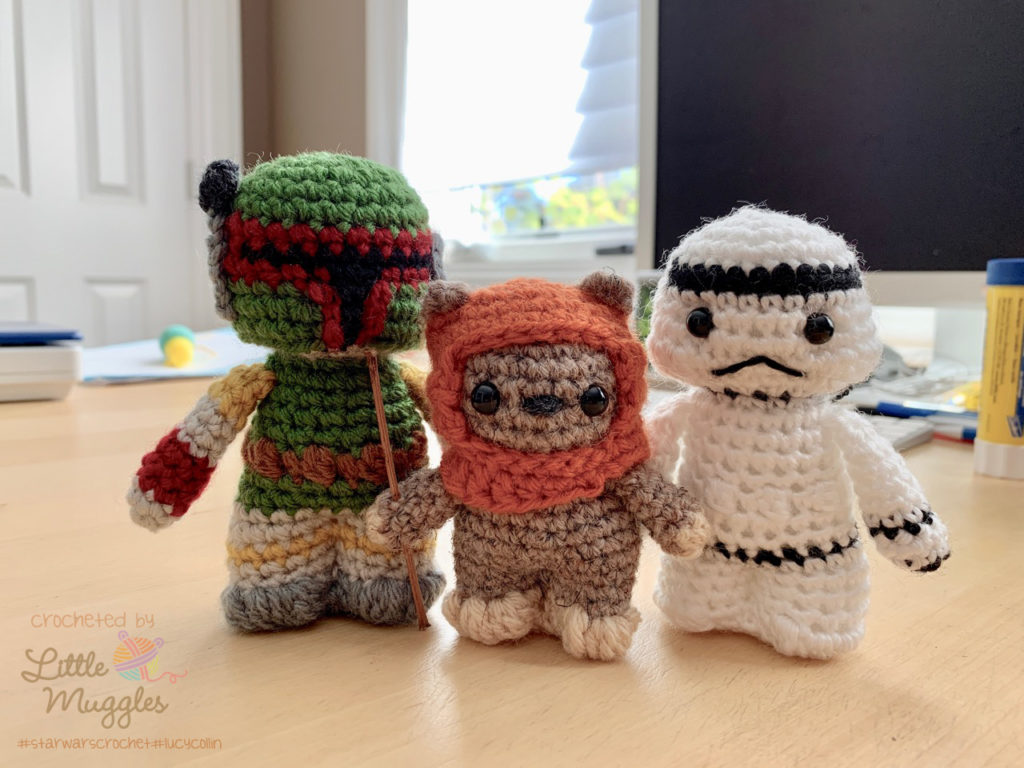 A couple of years ago, I was given this adorable Star Wars crochet kit from my brother in law.  I had a few projects that I was working on at the time, so I put the kit in the hall closet and there it sat until recently when I randomly remembered it and pulled it out of hibernation!  With the holiday season coming up, I figured that a few crochet characters would make cute bonus gifts for my little nephews, who are big Star Wars fans. The dolls can be used as toys, ornaments, or just cute decor!
This set is by Thunderbay Press, a company that creates a lot of different activity/craft kits.  They offer crochet sets with Marvel characters, Disney princesses, Zootopia, Rudolph the Reindeer, and more!   I've seen these adorable kits being sold at places like Michael's and Costco.   Inside the cute box, there's an instruction booklet that contains patterns to make 12 different characters as well as all the materials needed to make one Yoda and one Stormtrooper. The patterns are made by the British designer Lucy Collin.  The beginning of the book includes a "techniques and terminology" section which explains the different required stitches and how to make them. (along with colored photos)  This booklet definitely has enough information so that someone who has limited experience with crochet can attempt these dolls!  But the thing that might make these difficult for crochet newbies is the actual size of these dolls. They are only a few inches tall and have relatively small parts to crochet.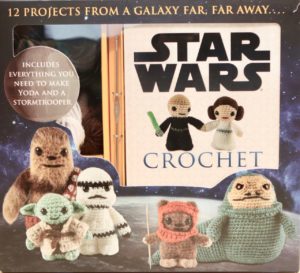 Looking at the different Star Wars designs,  I knew that I definitely wanted to make Boba Fett and an Ewok.  I had to hunt around for the right color yarns in my stash since the kit doesn't come with materials to make these two. I wanted to use Lion Brand's Wool-Ease yarn in Mushroom for the Ewok but I sadly discovered that I didn't have any more skeins. But I did come across a random discarded doll head where I had used that particular yarn – perfect! I love being able to unravel something I don't need anymore to repurpose it into something new! Yarn recycling is awesome! I always feel so bad when I toss some unwanted doll parts because it's too much trouble to unravel it and keep it for future use.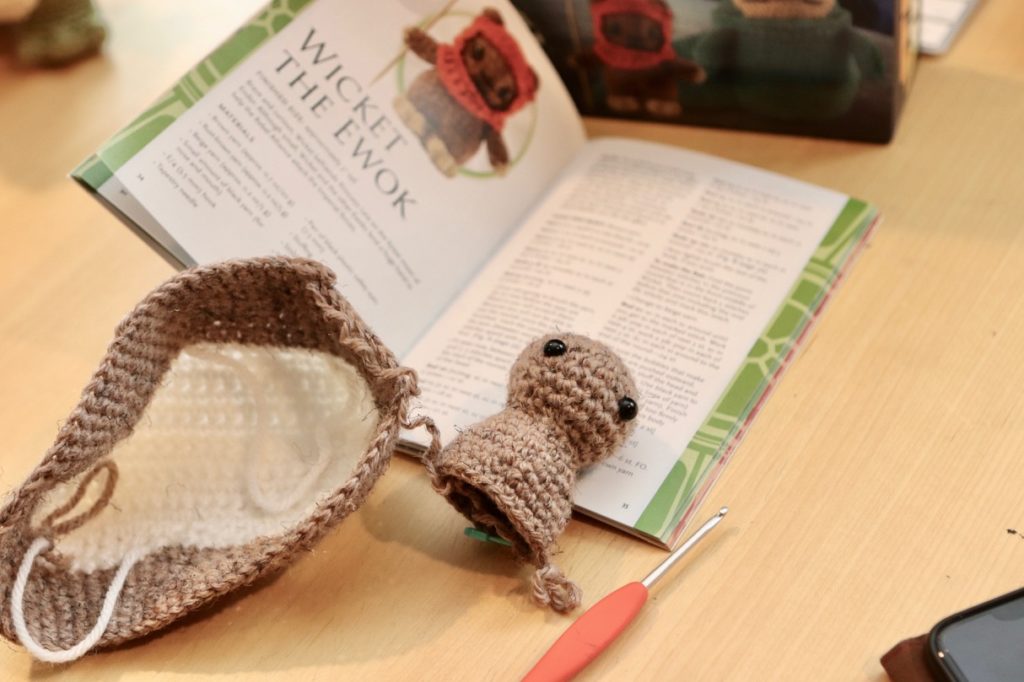 I don't usually work with such small dolls and I found it a little bit difficult with the assembly of such small pieces.  Assembly is my least favorite part of the process but overall, I am very pleased with how the Ewok came out! Look at his cute little face with those little ears sticking out of his hood! 🙂  I went outside to the front yard to find something suitable to be used for his staff instead of the recommended toothpick.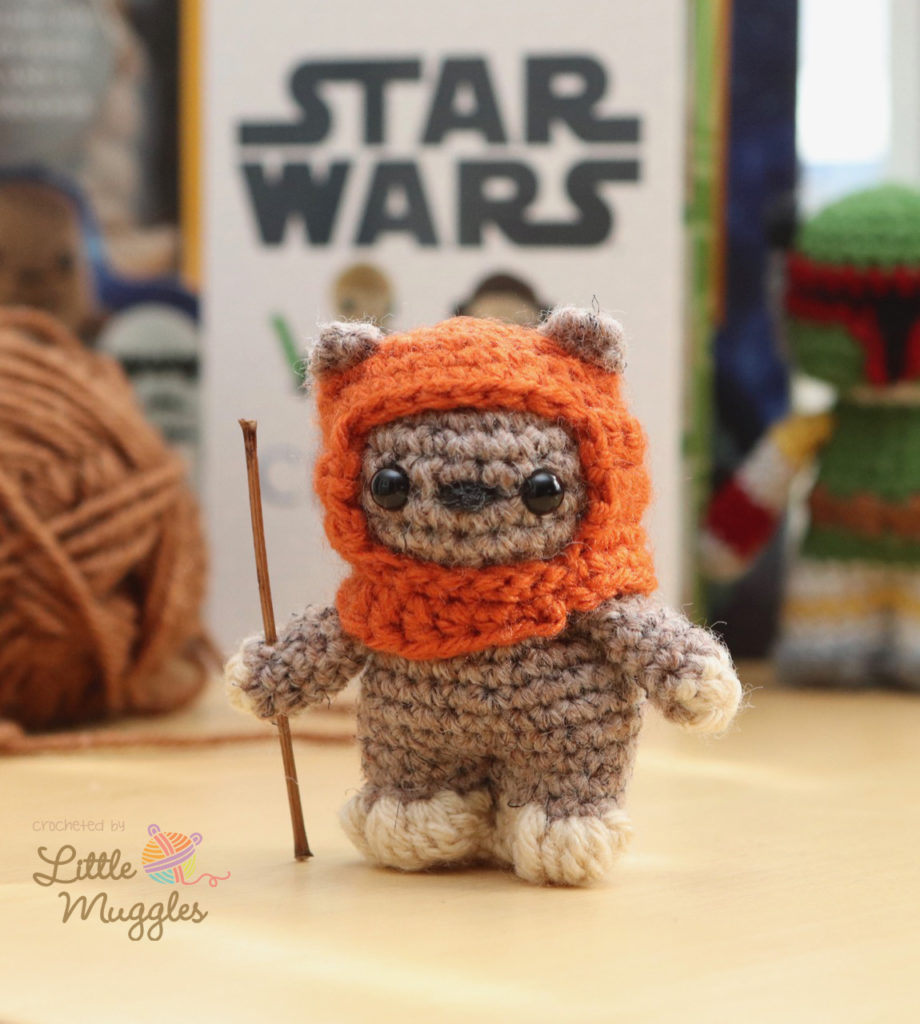 Here is my Boba Fett figure. I made him here without his cape.   I think a little jetpack would be so cool…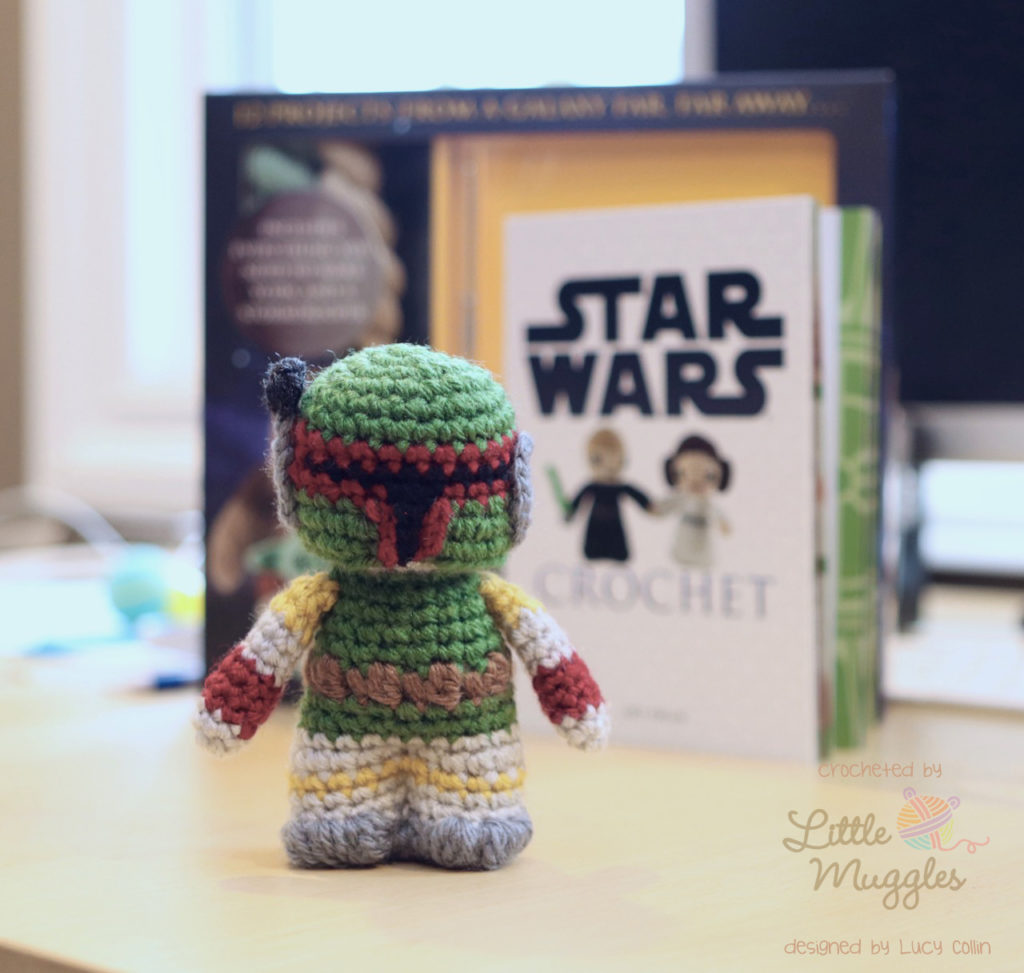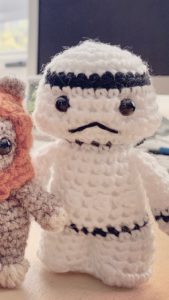 The kit came with 2 sets of eyes and I had already used a pair for the Ewok.  I figured why not make another figure and use up the eyes so I hesitantly decided to make a stormtrooper.  It didn't initially appeal to me because it seemed very plain and simple, but it was actually fun to make. I'm getting good practice making bobble stitches with these Star Wars characters; they have been in every pattern so far! 🙂 The hardest part was positioning the eyes on this guy… Initially, I placed them in the recommended position, with the eyes just under and touching the black stripe, but I wasn't happy with how it looked.  The bad part was that I didn't figure it all out until I was almost done with the doll and I had to pull all the stuffing out to undo the backings just so  I could reposition the eyes to my liking! It was not fun and I was kicking myself for not figuring it out sooner!     What do you think of the eyes in this position?  The stormtrooper doesn't look particularly menacing this way but that wasn't what I was going for. I guess I like things to be a little cuter.:) I was even tempted to make his mouth into a smile instead of the frown but that would have been too weird. And that would probably make him unrecognizable. haha!
Since I ran out of small safety eyes,  I had to stop for now.   Overall, I enjoyed making these characters and I think my nephews will love them,  but I will stick with designing bigger dolls for myself.  I don't prefer to crochet and assemble such small pieces.  I do love how cute and little they turn out in the end though. Perfect for ornaments and gift decor, in my opinion!  I don't think I will venture to continue the set at this time. Perhaps I'll pull this out again at the end of the year during the next holiday season to add on to my nephews' collection! 🙂 I think I'll attempt Chewbacca, Princess Leia, and maybe Han Solo…I just have to make sure to remember to stock up on small safety eyes!