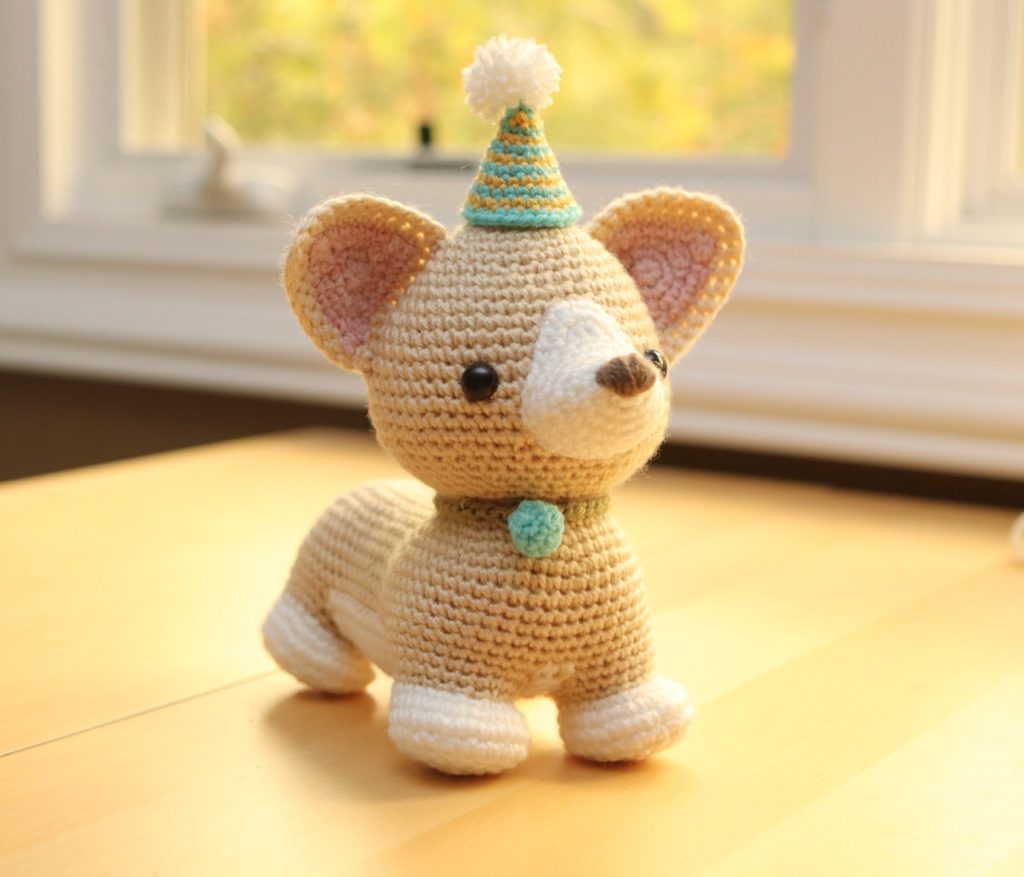 Greetings, all! I took a long break from crocheting but I'm proud to report that I'm still here and I present to you my latest doll! This pattern seriously took me many, many, many months to complete. I started it at the beginning of our Shelter in Place for the current pandemic and that was 6 months ago! I went through at least 3 different versions before coming up with this final design and I hope you guys like it!
Corgis are such adorable little dogs! Their body proportions are so unusual, with their long backs and large head and ears…the puppies are the cutest! This is definitely a corgi of sorts – I totally get that there are some glaring differences with the real thing, but hey, everyone will just have to accept that this is my unique Little Muggles rendition of a corgi! 🙂 My young son thinks it looks more like a Chihuahua and I'm ok with that too. Maybe I should just write "amigurumi doggie" instead of a specific breed… 🙂
Why is he wearing a party hat? Well, I have the great fortune of being included in the upcoming publication of Zoomigurumi 10 and this little guy is my contribution! I've had the honor of having patterns in almost all of the Zoomigurumis and I still remember how exciting it was to join up with the publisher for the first book all those years ago! Seems like yesterday! I'm delighted to see how huge the amigurumi community has gotten over the years! It's changed so much from when I remember starting out! Back then, something called "Instagram" wasn't around yet. 🙂
You might notice the yellowish lighting of these pictures. This pic was taken in the Bay Area on the day we woke up to a burnt orange sky, looking like we had somehow traveled to Mars in the middle of the night. The west coast wildfires had created enough ash and smoke to literally block out the sun. It truly resembled what you might picture Armageddon looking like. Very unsettling. Prayers to all who have been affected by the fires!
At this very moment, Ollie is en route across the Atlantic Ocean, heading to Belgium! Probably one of the few "Americans" that will be welcomed abroad during this time! He will join the other creations that will be included in Zoomigurumi 10 and will have all sorts of fun photo shoots to look forward to! Bon Voyage, Ollie!