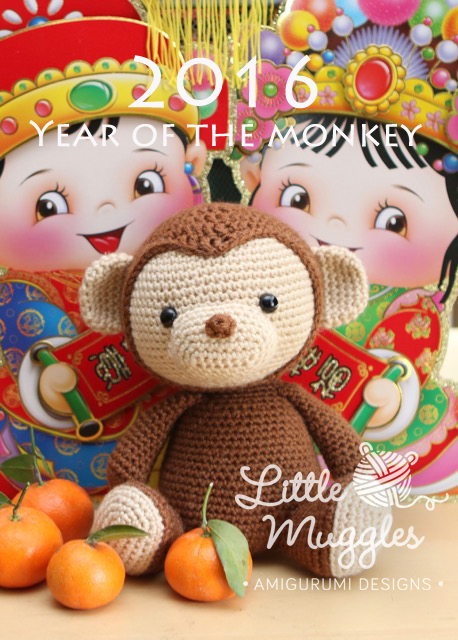 The Lunar New Year falls on Monday, February 8!  What better way to commemorate this occasion than to release a new Monkey Pattern?!  Miles the Monkey joins my collection this week and is now available for purchase in my usual shops! (CRAFTSY & ETSY) I had a great time making this little guy!  He's so sturdy and cute – I can totally picture him as part of the decor in a kiddo's room!
Now, how many of you know people who are born in the Year of the Monkey (my brother!) or people who are having babies this year? The Years of the Monkey include 1920, 1932, 1944, 1956, 1968, 1980, 1992, 2004, and 2016.  
People born under the Year of the Monkey are supposed to be intelligent, witty, and inventive.  They are problem solvers and work well with others.  People born under this sign are supposedly playful and youthful in nature.  Yup, that pretty much sums of my big bro!
Now I'm not a superstitious person, but I always manage to look at the Zodiac during the turn of the Lunar New Year- I find it amusing to see all the predictions for the year to come. My mom, (who IS superstitious) is quick to tell me if I'm going to have bad luck in the upcoming year.  She will take any necessary steps to ward off the impending bad fortune.  Are you curious to know what it says about your sign this coming year?  According to the Chinese Almanac, it's going to be an auspicious year for Rats, Oxen (me!), Dragons, Horses, Monkeys, Roosters and Dogs.  Surprisingly, it's not always a good year for the people born under the same sign of that year!  (ie. Rats don't always have good years when it's the Year of the Rat.)  I have no idea why that is… seems counterintuitive doesn't it? 🙂
This is supposedly a difficult year for Tigers (my husband-oh no!), Snakes, Dogs, and Boars.  Rabbits should be aware of their finances.  Sheep should take care of their health.
Funny thing is, I never remember to look at these predictions again at the end of the year to see how accurate they were.  Maybe I'll have Siri remind me to reflect on this when December rolls around…
I hope to see lots of amigurumi monkeys floating around this year!
Happy Lunar New Year! Gong Xi Fa Cai!(mandarin) 🙂  Gong Hay Fat Choy!(cantonese) 🙂