Well, 2015 is here and half a month is already gone!  I'm always excited when a fresh year rolls around… a fresh slate, a fresh blank canvas of unlimited possibilities… I can't wait to see what sorts of new ideas come to me this year!  I also look forward to seeing what my fellow designers produce this year! I expect to be dazzled because everybody seems to be coming up with more and more amazing creations! Have you seen the entries to Amigurumipattern.net's most recent contest?? There's some crazy talent on display!  If we're all lucky, maybe a book will be released with the patterns of some of those beautiful entries!
When a new year starts, I also like to look back to see what I've accomplished during the past year.   One thing that I'm really happy to have finally gotten around to doing is coming up with a cool logo for my Little Muggles "brand"!  I had toyed with the idea of making one for so long – my husband finally got me to use DesignCrowd, which is basically a marketplace for logo, web, and graphic design.  It was a fun experience.  I paid a fee,  wrote a short description of what sort of logo I was thinking of, and waited for random designer submissions to roll in.  I got to fine tune whichever designs I liked and I ultimately picked a winner! Just for fun, here are just some of the designs that I had to consider.  Believe me, it wasn't easy to narrow it down to just one!
The winning design ultimately went to Justine Espinueva of "DesignerMilk".  Her whimsical design is simple and fresh, and I feel that it represents me and my creations well.  I especially love the cute touch of the little ears on the ball of yarn!   Here are more samples of her work, in case anyone out there has graphic design needs!  I found Justine to be extremely professional, courteous, and responsive – I highly recommend her! http://designers.designcrowd.com/designer/73485/designermilk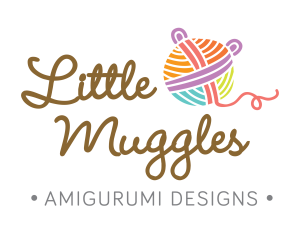 I can't believe I've been crocheting amigurumi for almost 10 years now!  (I gauge how much time has passed using my kids' ages)  A lot has changed since I first started out… I remember there were only a small handful of websites that I knew about which featured amigurumi…a far cry from what can be found out there these days!!
Here's a fun question for you!  Of all of my designs that I have released since 2010 when I first opened up my Etsy shop, can you guess which is by far the most popular?  Hands down, it's Lucky the horse! Are you surprised?  I made this little guy in time for the Year of the Horse in 2014 and boy has he had a great year!
I am always delighted to see the pictures that people send me of their own versions of Lucky, especially when they change up the colors!  Here are just a few of my faves!!
My second most popular design is Spike the Dragon and coming in third is Haribo, the Bedtime Bear!
Finally, here is a small gallery of all of the dolls I came up with in 2014.  Enjoy, and here's to another year of inspiration and creativity!
XOXO!