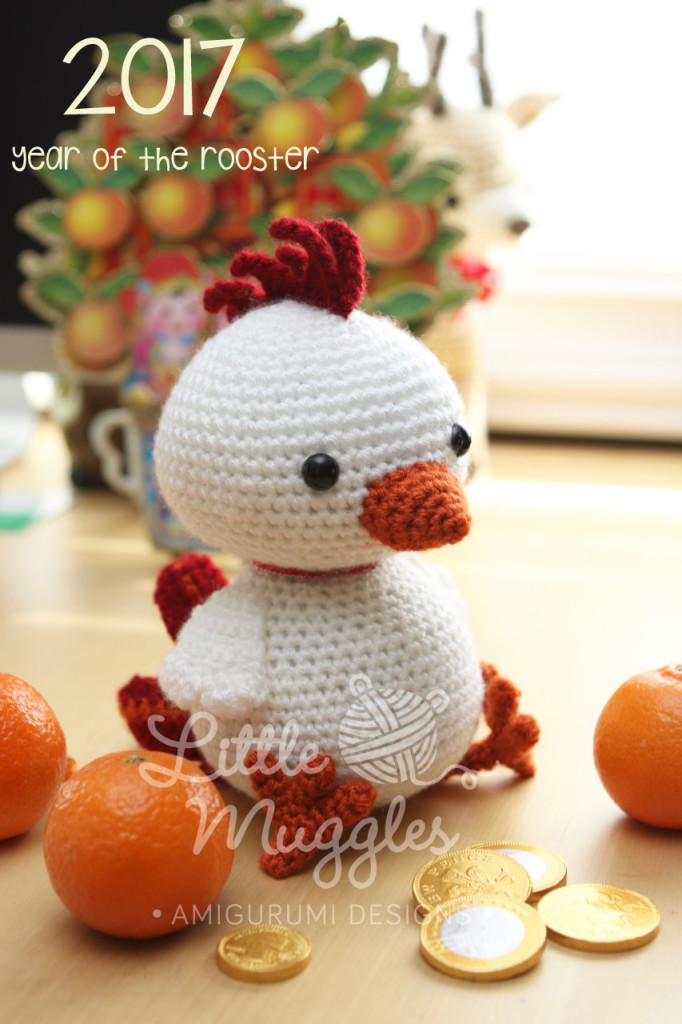 Greetings, all! Here's to yet another year! The Lunar New Year starts on January 28 and this year is extra special to me since my twin boys were born in the Year of the Rooster! Hard to believe they are turning 12(!) this year!!! It really doesn't seem so long ago when they were just little babies, babbling and learning to crawl. It's scary to see how fast time is passing by.   Since it's become a tradition for me to come up with a new character for the Lunar New Year, I present to you my latest creation – my little New Year rooster!  He's sitting among mandarin oranges and gold coins, all which represent good fortune for the upcoming year.  Here's to a new year of peace and happiness to you all!!
Many of you are probably wondering if there will be a pattern released for this little guy. The answer is "yes!", but it is at the end of a long list of other things I need to do first.  I am still planning to write up and release the individual pattern of Hanna the Hippo into my shops and I have an illustration project on the side that I need to finish up as well. I do appreciate your support and patience – I wish there were more hours in the day to juggle all my tasks!  One of my resolutions is to better organize my time so that I will be able to fit in everything I want/need to do!
So I'm off to finish some projects, and I promise to update this site more frequently this year! (resolution#2?) Happy crocheting and Happy New Year!