All of my patterns can currently be purchased or obtained from TWO different online sites : ETSY and AMIGURUMIPATTERNS.NET
Any other sites that list my patterns for sale are not legit. Sadly, there are numerous sites that illegally sell designers' patterns, claiming them as their own, or even sharing and posting them for free. It's really disappointing, frustrating and infuriating for all of us designers who have spent so much time coming up with new ideas, working and reworking designs, creating and formatting the actual pattern which in itself takes almost as long as the crocheting part…SIGH Please report illegal activity should you come across it! Thank you!

For those who are not familiar with this online site, Etsy is a virtual shop that sells handmade, vintage, custom, and unique items! It's a global online marketplace and it's truly amazing – you can find a plethora of unique and creative things, from custom jewelry, clothing, wedding items, accessories, crochet/knitting patterns … the list goes on and on!
In fact, the top product category being sold on Etsy is "Craft and Supplies", which include patterns, yarn, hooks, needles, and everything you need to work on your projects! Finished products are also sold, so if you are aren't a knitter or crocheter yourself, you can still get your hands on dolls, scarves, hats, socks,.. you name it! It's probably there!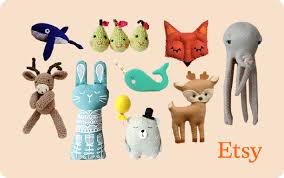 I opened up my Etsy shop in 2010 (wow a whole decade already??) and have been slowly adding patterns over the years! I currently have 40 designs in my shop. I encourage you to pop over and take a look at all of my listings!
Etsy also makes it really easy to buy what you like! They accept credit cards, debit/bank cards, PayPal, Applepay, Googlepay, Etsy Giftcards, etc. You can find more details on all the forms of payment they accept here!
Click here to visit my ETSY Shop

Amigurumipatterns.net is an awesome site that is dedicated to offering amigurumists a huge database of patterns to choose from! The creator of this site has spent years compiling patterns from designers all around the world and her collection is truly extraordinary! The patterns are grouped by genres (ie. safari animals, sea animals, flowers, bears, etc..) but you can also use the search bar to look up specific designers and pattern names.
Definitely check this site out! You can find free patterns and there is even a monthly Ami-Along that you can join!
Click here to visit Amigurumipatterns.net